A custom home is so much more than four walls and a roof. One of the biggest decisions you'll face when thinking of your next home is whether to build a custom home or buy an existing home. There are many benefits of building a custom home that is customized to you, or your family's, everyday needs.  
These seven benefits of building a custom home may help understand the perks of having your new custom home built by Embarq:  
Advantages of Building a Custom Home
Private Lot & Privacy
Whether you want to be in the middle of a booming city or back to a private timbered reserve, your lot is a huge selling point for building custom. You can select a lot within Embarq's portfolio or provide your own piece of land. The orientation of your floorplan can also maximize views, space and the type of build you want.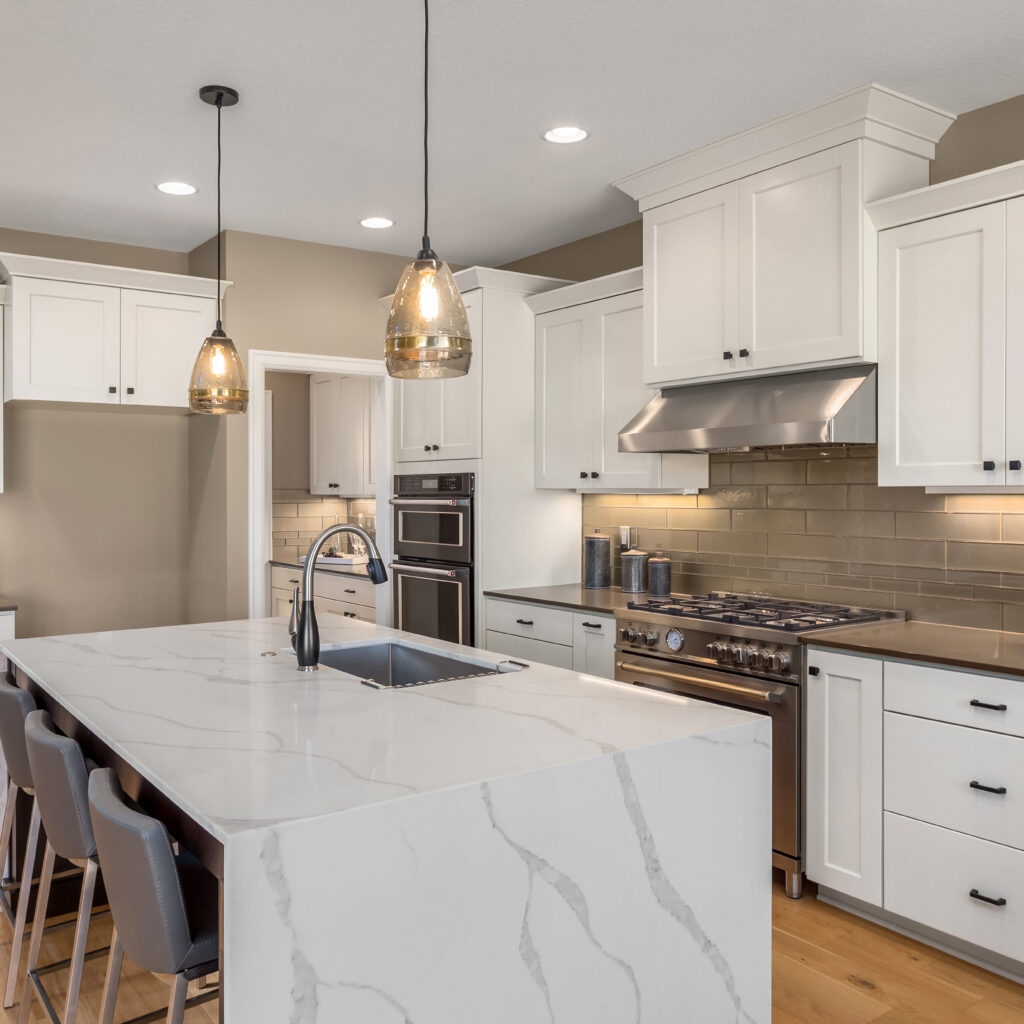 Customizations
Picking every design element of your home may sound daunting, but this allows for a home that is a customized footprint of what you need. From hidden pantries and doggy doors, custom closets, heated floors, and pantry drop-offs, to window treatments, the options are truly limitless to make your home yours. These include security, landscape, appliance packages and exterior personalization as well.  
Budget Flexibility
Given you are making all the choices in your home, this means you have complete control of the budget. If you'd rather allocate money to an upscale appliance package or a covered deck versus flooring or countertops, that is your decision to make. You have the ability to scale up – or back – as much as you need.  
When you work with Embarq, the budget is discussed in-depth and upfront, so the team understands your cost restrictions and keeps it as a top priority throughout the build.  
Functionality
During the design consultation, Embarq's team will discuss what is important to you and what customizations can make your life easier from the day you move in. Double island? Custom closet space? Garage space with a lofted office? These essential functionality pieces are literally built into your floorplan and designed with you in mind.
Rather than working within an existing floorplan that may require modifications or renovations, your floorplan is designed to maximize every square foot of usable space.
Material & Construction Quality
This is one of the biggest pros to building a custom home. Alongside Embarq, you are selecting specific material to build your home such as window vendors, shingle styles, siding brands and many more options.
At Embarq, we have a list of preferred vendors who we will introduce to you during the process, but ultimately, it is your call.
Personal Expression
Similar to customization, your custom home is a direct expression of your style and self. Whether that's a bold color palette, unique exterior finishes or if you want artwork to be the focus of your home, your home can be designed to highlight these pieces.
If your outside space is the most important, you can build a beautiful deck or patio space overlooking your backyard. Or if you have a distinct style – mid-century modern, contemporary or a combination – this is the chance to work with Embarq's in-house architects and design team to make it come to life.
Energy Efficiency
Finally, a custom home can offer the type of energy efficiency a pre-existing home likely will not be able to provide, unless a large renovation is planned. A custom home may cost more upfront in order to incorporate some of these pieces – like special windows, solar panels and more – but your environmental footprint will be significantly reduced.
Custom homes have many perks that existing homes may not be able to offer and they're achievable within your desired budget. Check out Embarq's build process and current floorplans today or reach out to our experienced team with your blueprint so we can begin building your custom dream home today.